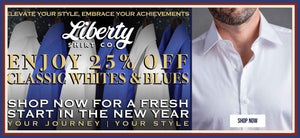 UNBEATABLE EVERYDAY VALUE
At Liberty Shirt Co., we recognize the importance of every hard-earned dollar, and that's why we are dedicated to providing you with unparalleled value. Introducing our extraordinary everyday offer: purchase three shirts for just $333. This exceptional deal allows you to elevate your wardrobe without exceeding your budget. With our everyday value, not only do you save money, but you also experience the luxury and resilience of our premium shirts. Meticulously crafted from the finest materials, each shirt is made with precision and care, ensuring longevity for years to come. And, of course, proudly proclaim your commitment to quality, as all our shirts are MADE IN AMERICA! Don't miss out on this unbeatable everyday value. Shop with us today and redefine your wardrobe with the enduring style and craftsmanship that sets Liberty Shirt Co. apart.
EXCLUSIVE PARTNERSHIP WITH FOX SPORTS
Discover the distinction of being the official custom shirt of Fox Sports at Liberty Shirt Co. This prestigious collaboration speaks volumes about the quality and craftsmanship we bring to each custom-made shirt. Being chosen as the preferred custom shirt provider for Fox Sports, Fox NFL, MLB on Fox, and various FS1 properties underscores our commitment to excellence. We've earned the trust of discerning clients who demand precision in measurement and craftsmanship, especially for non-average body types. Our unique ability to tailor shirts that meet the high standards of professionals in the sports industry sets us apart from the competition. By choosing Liberty Shirt Co., you're not just investing in a garment; you're aligning yourself with a brand trusted by industry leaders. Our partnership with Fox Sports reflects the superior quality, attention to detail, and exceptional customer care that defines us. Elevate your wardrobe with the confidence that comes from wearing the official custom shirt of Fox Sports—where precision meets prestige, and every stitch tells a story of unparalleled craftsmanship.
If you would like custom shirts, click here to contact us so we can schedule a fitting appointment with you at your home or office.
(photo credit: Lily Ro Hernandez and used with permission of Fox Sports.)
About Us
Liberty Shirt Co. was launched the 4th of July, 2020, building on a family legacy four generations deep. Like our forefathers, we have poured our heart and soul in to the work we do, continuing a tradition of excellence over 120 years old. We apply our hard-earned experience to bring you the finest custom-tailored, made-to-order shirts, built stitch by stitch for you and you alone. We take pride in every button and seam, and spare no effort in ensuring that you look your best. After all, you've earned it.
Iconic American style – made in the USA