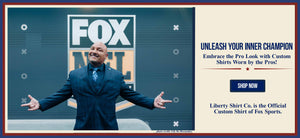 EVERYDAY VALUE
We understand that every penny counts, and that's why we're committed to offering you the best value for your money. With our everyday buy-three-for-$333 offer, you can upgrade your wardrobe without breaking the bank.
By taking advantage of this everyday value, you'll not only save money but also enjoy the comfort and durability of our top-notch shirts. Made from the finest materials and crafted with care, our shirts are designed to last for years to come. Best of all, your shirts are always MADE IN AMERICA!
So, what are you waiting for? Shop with us today and take advantage of our unbeatable everyday value!
WE ARE… The Official Custom Shirt of Fox Sports!
There is a difference between custom and made-to-order. Custom shirts require measuring your body, analyzing your posture and creating a unique pattern based on your one-of-a-kind body.
If you would like custom shirts, click here to contact us so we can schedule a fitting appointment with you at your home or office.
(photo credit: Lily Ro Hernandez and used with permission of Fox Sports.)
About Us
Liberty Shirt Co. was launched the 4th of July, 2020, building on a family legacy four generations deep. Like our forefathers, we have poured our heart and soul in to the work we do, continuing a tradition of excellence over 120 years old. We apply our hard-earned experience to bring you the finest custom-tailored, made-to-order shirts, built stitch by stitch for you and you alone. We take pride in every button and seam, and spare no effort in ensuring that you look your best. After all, you've earned it.
Iconic American style – made in the USA